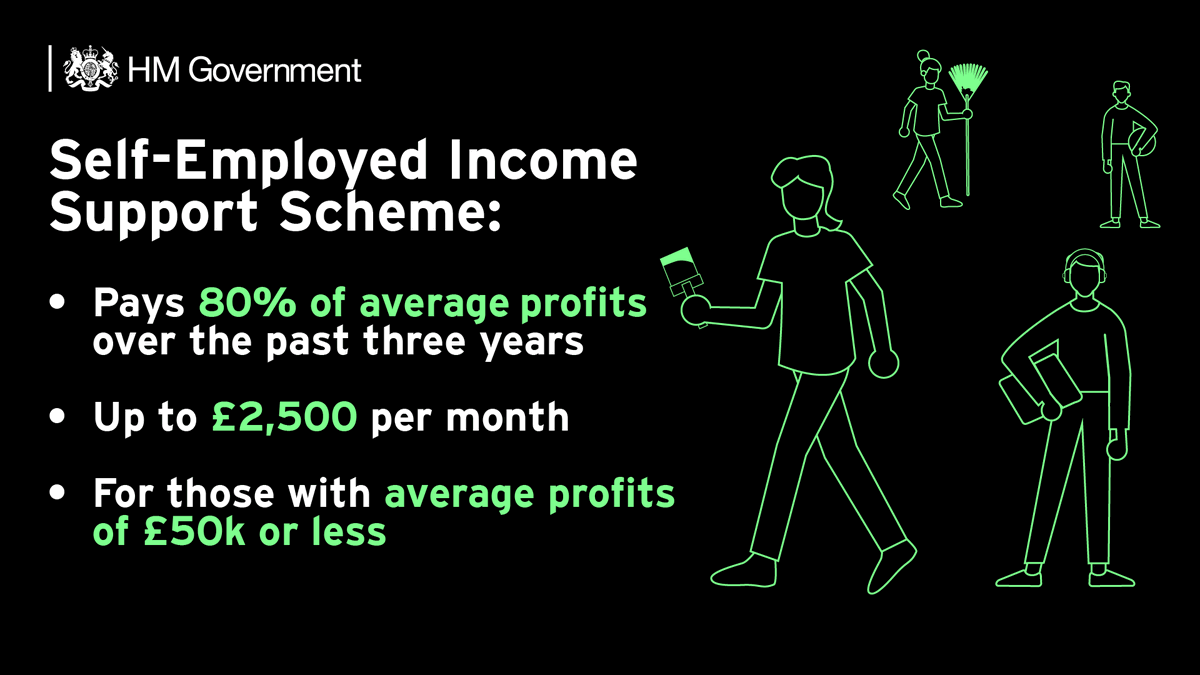 1 The Government has announced a new Self-Employed Income Support Scheme to support those who work for themselves.
2 The government will pay self-employed people, who have been adversely affected by the #coronavirus, a taxable grant worth 80% of their average income over the last three years, up to £2,500 per month, for at least three months.
3 Self-employed people who are eligible can apply directly to HMRC for the grant, using a simple online form; HMRC will then pay the grant straight into your bank account.
4 This scheme will be open to those with income of £50,000 or less, who make the majority of their income from self-employment.
5 For self-employed people who are struggling now, we've also made sure that most will be able to access the business interruption loans.
6 And we've also changed the welfare system so that self-employed people can now access Universal Credit in full.
7  A self-employed person with a non-working partner and two children, living in the social rented sector, can receive welfare support of around £1,800 per month.
What is it?
The Self-employment Income Support Scheme (SEISS) will support self-employed individuals (including members of partnerships) whose income has been negatively impacted by COVID-19. The scheme will provide a grant to self-employed individuals or partnerships, worth 80% of their profits up to a cap of £2,500 per month.
HMRC will use the average profits from tax returns in 2016-17, 2017-18 and 2018-19 to calculate the size of the grant. The scheme will be open to those where the majority of their income comes from self-employment and who have profits of less than £50,000. The scheme will be open for an initial three months with people able to make their first claim by the beginning of June.